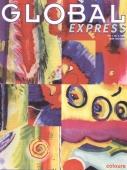 Fifty years have passed since independence for both India and Pakistan, but we have continued to pass on our hatred for each other from generation to generation. I want us to think: is there any reason for our ill feeling towards Pakistanis?
Like me, millions were overjoyed by the step taken by our Prime Minister, Atalji and the Pakistani Prime Minister, Sharif--the historic bus journey on February 20th, 1999. It was the first step taken by both nations--such work gives inspiration to many to work towards reconciliation.
We, a group of young Indians, inspired by the ideology of Moral Re-Armament (MRA), think the same as our Prime Minister. In our own small way, we are working towards reconciliation. Every year we have a youth camp at Asia Plateau, Panchgani. In 1997, we had two-hundred participants from all over India reflecting the rich socio-religious diversity of our land. We had a debate: should India and Pakistan improve relations at the human level? Those who spoke against the motion concluded by saying that actually they were for the motion!
It was a joy to listen to the Prime Minister of Pakistan talking about both nations, emphasising that we are people of the same land, with the same roots, language and culture. We had expressed similar thoughts in a letter to him from an international conference in Caux, Switzerland. There we had met a parliamentarian from Pakistan. His attitude towards us was indifferent and cold. When I expressed my helplessness as a common man but also my desire to have a dialogue of reconciliation with Pakistan, I felt my sincerity touched his heart. The next morning when he spoke from the dais, his body language, words and feelings towards us had changed. He said, `When I came here, all I could see was a big wall between India and Pakistan. Caux has created a window in that wall. Now I can see what my enemy is doing. I realise that if I am afraid of him, he is equally afraid of me. Yet, he walks like me, talks like me, eats like me, behaves like me and feels like me too. And, I must admit, I am beginning to love him.'
Recently two friends from Pakistan visited us. We shared our experience of Caux with them, and how we all deeply feel that both countries should be reconciled. We also sang the Pakistani national song, which brought tears to their eyes. Although they were Pakistani, they said that they did not really know their anthem.
Many people like us are working at different levels to bring both nations closer. If we work together the effect and the result will be much greater.
Viral Mazumdar, India