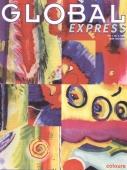 Coming from the outskirts of Europe, not being part of the EC and living amongst reindeers and trolls, my group of friends back in Norway consists of only white people except one. Although Oslo has only half a million inhabitants, it is not as if I have never seen a black person in the streets. But compared to bigger countries and cities, my hometown has relatively few immigrants and the majority of them live in particular parts of Oslo. I have been fortunate to travel quite a lot and have met people from many countries where people have a different skin colour to mine. But it is now, living in London, seeing coloured people everyday and having several black people on my course, that I have discovered the joy and excitement of having a multicoloured group of friends.
My class has just been on a week's field-trip. Besides learning about nature being our museum, conquering fear, building the team-spirit and exploring the power within ourselves, I have come to know my classmates in a whole new way. For the first time, I have spoken to a mad guy from Saudi-Arabia and learnt about their culture and religion, their belief in supernatural spirits, the Jinns, and how he wants to change his materialistic life to become a better Muslim. I have spent time getting to know a generous Asian-English guy in East London where he lives surrounded by people from every race, looking after others more than himself. I have shared moments with a jolly Jamaican girl who smiles at you like the world could never end and who is excited about going back to her roots for the first time this summer. I have listened to the stories of a Turkish girl and decided to share a house with her next year. I have been educated by a man with Native-American blood about the power of human nature, and how teamwork creates unbreakable bonds.
It was a completely different group which returned a week later. I am amazed by what we managed to create. Eleven out of thirty-nine are foreign, giving the class greater shades and colours. I have learnt to appreciate black people in a new way and to see the enormous possibilities in using the whole palette instead of sticking to your usual and safe HB pencil.
Marianne Knudsen, Norway